Have you ever wanted to repost on Instagram but didn't know how? Well, the good news is that it's effortless! This article will teach you all there is to know about getting started with reposting on Instagram.
Every day, millions of people share images on Instagram. If you have an Instagram account with many followers, you might be wondering how to share other people's posts.
Though reposting isn't an official function of Instagram's applications or website, many brands and users have been doing it for quite some time. It's also a successful strategy. Reposting was a significant contributor to Buffer's 60 percent increase in Instagram followers.
We'd love to guide you in getting going! Continue reading for suggestions on incorporating reposting into your social media strategy and the best methods for doing so fast and efficiently.
Necessary Measures to be Followed While Reposting
Before you go ahead with reposting, you must follow a few necessary measures while reposting.
Give Credit to The Source:
Giving credit is quite crucial. If you repost someone's photo, make sure to credit them in your post. The best approach to provide credit to someone is to use their username in the caption.
After three lines of text, Instagram captions are shortened with an ellipsis, so try to include the credit inside those first three lines to keep it visible.
Seek Permission:
When you find a photo you'd like to share, it's essential to contact the original creator before publishing. The most common method is to use Instagram's messaging feature and send a DM to the designer. If this method fails, some Instagram accounts will also offer an email address in their bio.
We've also discovered that including a thoughtful statement in your outreach explaining why you'd like to share the photo is beneficial.
Steps to Repost Images, Posts, or Videos on Instagram?
Here are a few methods to repost images, posts, or videos on Instagram!
1. Screenshot Method
Step 1: To use an Instagram post, take a screenshot of it:
For Android, simultaneously press the sleep/wake and volume down buttons until your screen flashes. For iOS, simultaneously press the home and lock buttons until your screen flashes.
Step 2: Select post from the new post button in the top right corner.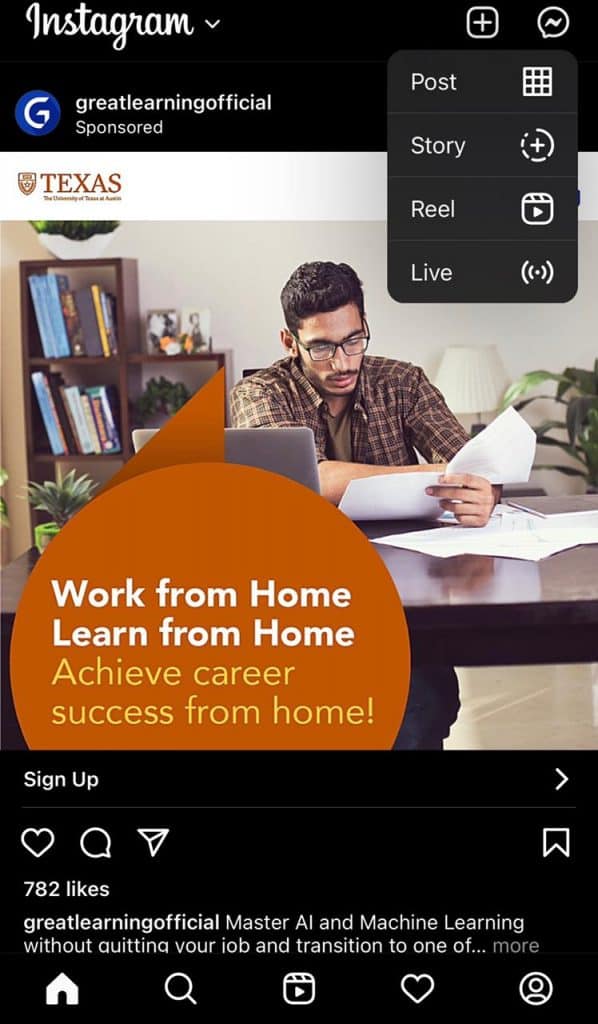 Return to your Instagram account after you've taken your screenshot. In the Instagram's upper right corner, tap the "new post button" (the plus sign inside a square). Then choose "Post" (other options include "Story," "Reels," or "Live").
Step 3: In the app, resize the photo.
Remember that your phone will capture a screenshot of the entire screen, not just the image you wish to report. As a result, be ready to crop the sides of the screenshot to capture only the image you want to share with your followers.
Click "Next" in the top-right corner of your screen once you've cropped or resized the photo to your taste (by pinching the image and then widening your fingers apart).
Step 4: Choose your filters and edit them (optional).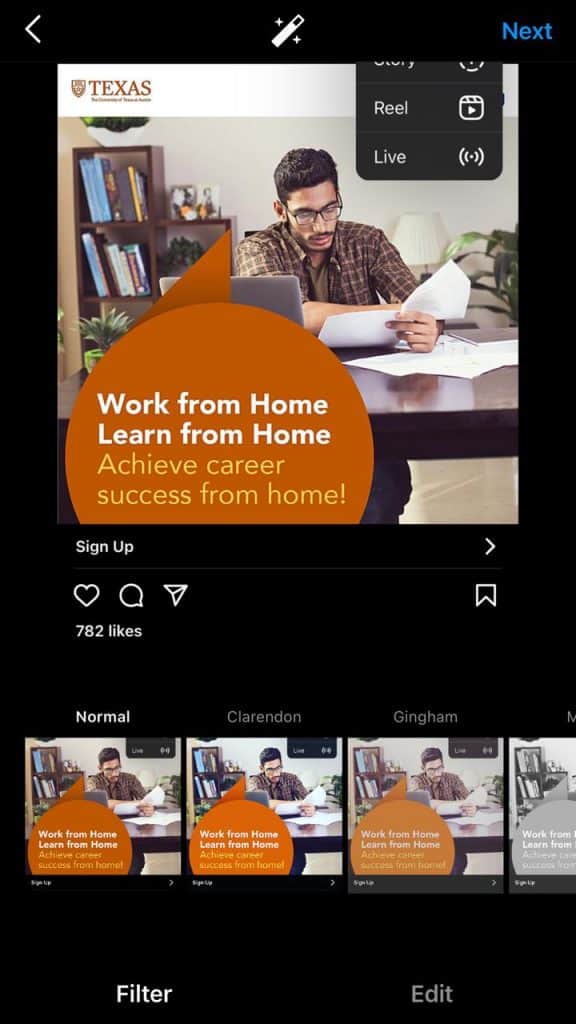 Edit and filter the image according to your choice.
Step 5: Include a caption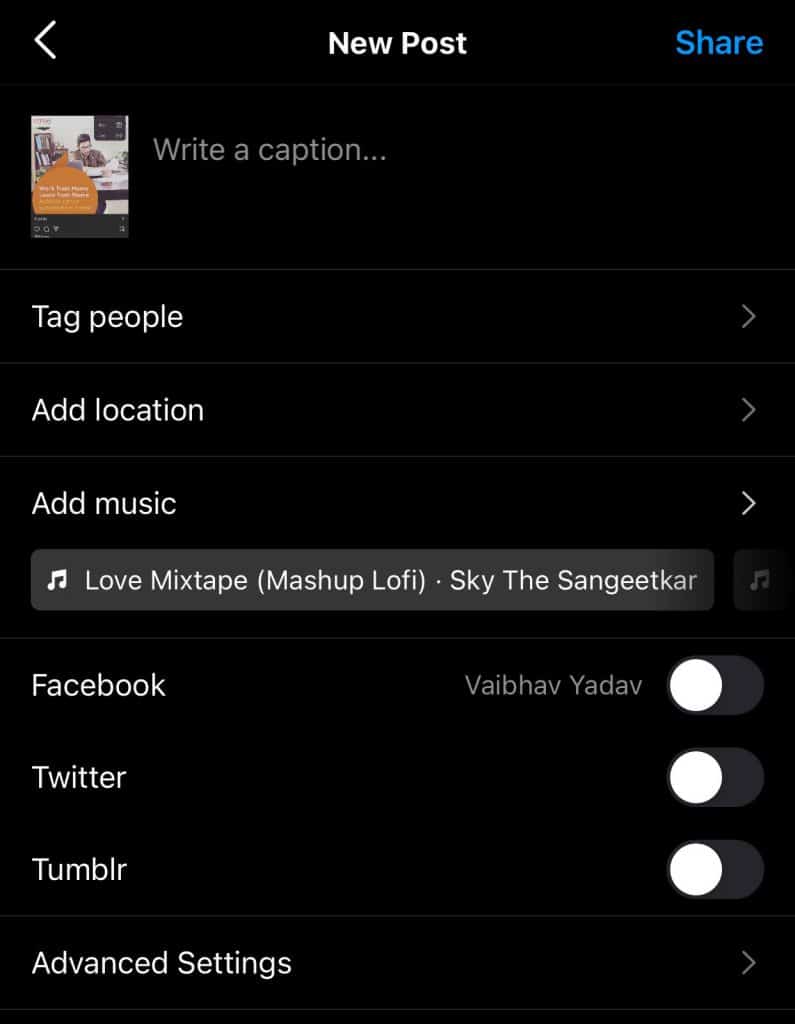 We recommend adding a reference to the report by entering "@ + [username]" to credit the original poster with the photo you're reposting.
Step 6: In the top right corner, click Share.
After modifying the post with the options above, go to the top right corner and click share. The article will be published.
2. Third-party Apps
You can also utilize a third-party app in addition to taking screenshots. Our most OK applications for reposting on Instagram are listed below.
1. Regrann
Regrann is another excellent Instagram reposting tool. It will be merely one of the app's most significant problems if we start with it. That is to say, Regrann is solely for Android users. Apart from that, the software is quite simple to use.

All you have to do now is copy and paste, and your work will be completed! Regrann also allows us to create a signature that will display in every image we repost. You may also use this reposting software to schedule your Instagram posts.
How to use Regrann?
You may repost using Regrann by following these simple steps:
Choose the image or video to share.
Select "Copy Share URL" from the three dots below the comments.
Copy and paste the Regrann application link.
2. InstaRepost
One of the most popular reposting apps is InstaRepost. It is not only the most popular but also the oldest reposting app. It's fundamental and straightforward.

To repost or download directly, copy the Instagram link. You are no longer required to take screenshots!
How to Use InstaRepost to Repost on Instagram?
To use InstaRepost, follow these simple instructions:
Open the InstaRepost app on your mobile devices.
Open the Instagram application.
"Copy Share URL" allows you to copy Instagram post links.
The images and videos will begin to download.
Copy the captions and download/repost.
3. Tailwind:
Tailwind is a helpful Instagram aide. The fact that it is the official Instagram and Pinterest Partner Tool is the best feature of this software. This means you won't have to reveal any information about your Instagram account with any third-party app.

Tailwind allows you to repost an Instagram photo or video. It also contains many beautiful capabilities, such as hashtag research and in-depth statistics. While Tailwind has a cost, its user-friendly interface allows you to plan, grow, and manage your Instagram account. Tailwind is, without a doubt, the most incredible Instagram repost app for both iPhone and Android.
How to Use Tailwind to Repost on Instagram?
To learn how to use Tailwind to repost on Instagram, follow these simple steps:
Install the Tailwind app and create an account.
Launch Instagram.
Copy the link to the Instagram photo or video you'd want to share.
In the Tailwind App, paste the URL.
4. Reposter for Instagram: Download & Save:
Because of its simplicity, Reposter for Instagram entered our list of the top apps for reposting on Instagram. All of the Additional features that most people won't utilize or want to pay for in the first place are not included.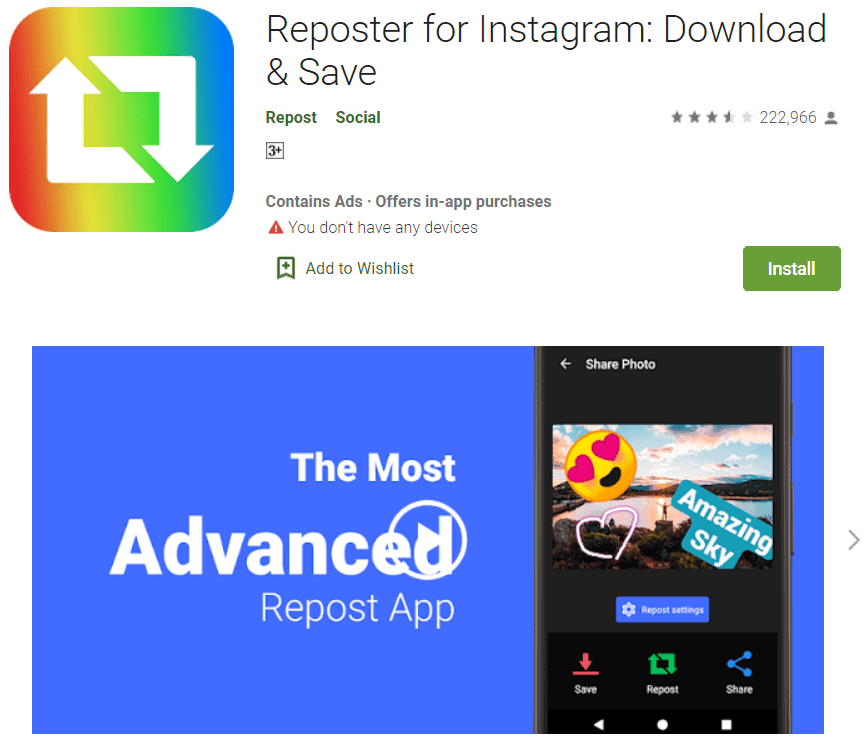 This is a terrific alternative for content providers who only want to repost on Instagram and nothing else. Among the most important features is the quick start video on the site, which informs you about the app's functions. Reposter for Instagram is an app that is free and simple to use. The watermark is less noticeable than in some of the other free apps.
5. Repost: For Instagram:
Repost for Instagram is another excellent iPhone repost software that allows you to instantly share photographs and videos from any Instagram account.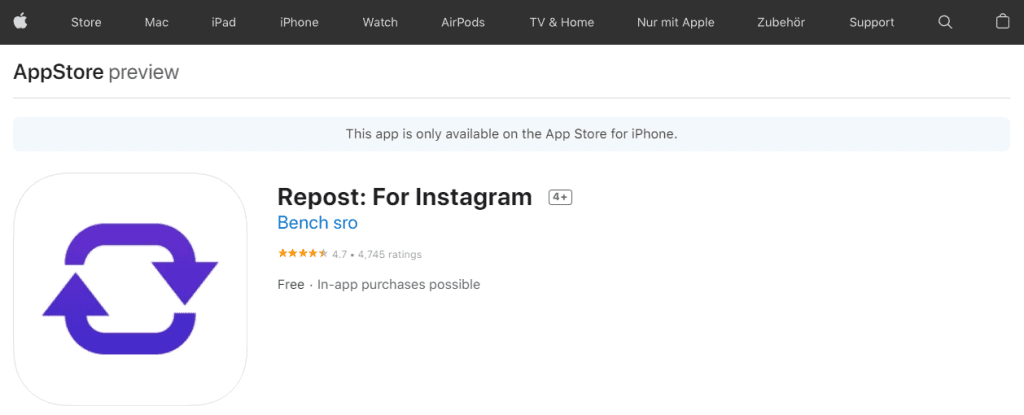 We'll go over how to use this program in three steps:
To utilize the Repost app, follow these steps:
Locate the post you wish to repost on Instagram.
Select "Copy Link" from the options menu (•••).
When you open Repost, the post appears automatically.
How to Repost an Instagram Story?
The most popular reason for sharing someone else's Instagram Story is because they were tagged in it, also known as mention sharing. A notification would pop up in your DM. whenever someone tags you in a Story.
If you want to share the Story in which you've been tagged, take these steps:
Step 1: Click the paper aircraft symbol in the top-right corner of the screen to go to your Direct Messages.
Step 2: Open the message that says you've been tagged in a story.
Step 3: Press the "Add This To Your Story" button on the message.
Step 4: If you want to, you can change the story. GIFs, stickers, and text can also be added if you wish.
Step 5: Choose where you'd like to share the Story. Your Story, Close Friends, or a Direct Message to another account are your choices.
Step 6: Next, press "Send."
Related Read:
Conclusion:
There you have it — a quick and easy guide on reposting on Instagram. By following these simple steps, you can make sure that a wider audience sees your posts and that you give credit where it's due. So what are you waiting for? Start reposting today!
We hope our article helped you know how to repost on Instagram. Over to you. Which method are you following? Let us know in the comments section below!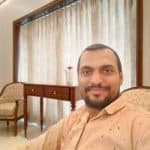 Hi, This is Gautham, a full time content writer and editor at snapseed.online who believes in bringing the best out and personalising stories to reach and relate to various audiences and I'm passionate about wild life photography, photo and video editing.