TikTok might seem like just a fun pastime at first, but the platform has more to offer than what catches the eye. With one billion active followers, TikTok holds the title of the fastest-growing social media of all time. As the influx of creators and viewers is constantly rising, becoming TikTok-famous is getting exceedingly difficult. But these 20 most-followed people on TikTok seem to have cracked the code. So, what are they doing right?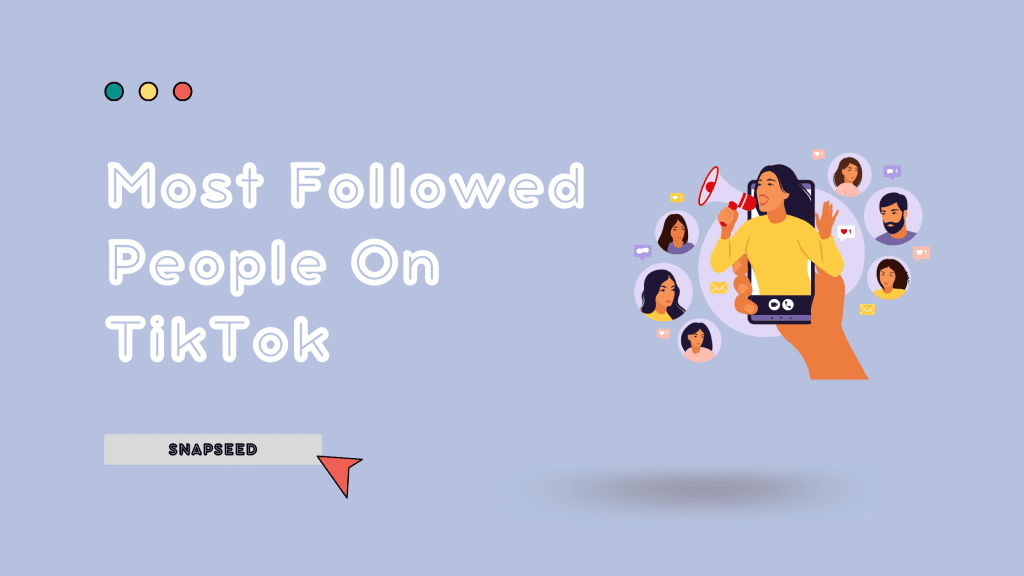 List of Top 20 Followed People on Tiktok
Let's find out! Here is the list of the 20 Most Followed People on TikTok in 2022!
1. Charli D'Amelio (@charlidamelio) – 140.8 million

With more than 140 million followers, Charli D'Amelio is the most followed person on TikTok. This 18-year-old Dancer was also the first TikTok creator to reach over 100 million followers.
This feat is even more impressive because it took her only seven months to accomplish this.
Charlie rose to fame in 2019 when she participated in the Renegade TikTok dance challenge.
She got viral instantly and hasn't looked back.
2. Khabane Lame (@khaby.lame)-13.4 million

Khabane Lame, also popularly known as Khaby, is the most followed male TikTok influencer.
Khaby began posting on TikTok in march of 2020 after losing his job. His claim to fame is comedy skits and reactions to people complicating simple things. He became a meme soon after he started his journey on TikTok. Even though he doesn't talk in his videos, his signature facial expression speaks volumes.
3. Bella Poarch (@bellapoarch)- 89.5 million

Former US Navy Bella Poarch made the cut with a whopping 89.5 million followers. Bella's popularity detonated overnight when she posted a video lipsyncing to Millie B's M to the B. That video quickly became TikTok's most liked video, with over 55 million likes.
Nowadays, Bella is making a name in the music industry with successful singles. Her debut single, Build a Bitch became an instant hit on the internet.
4. Addison Rae (@addisonre)- 87.6 million

Addison Rae Easterling joined TikTok in 2019 and rose to popularity with her dancing and lip-syncing videos. Addison became viral after posting a lip-syncing video to Mariah Carey's Obsessed. The video became an instant hit and even got a like from Mariah Carey. Addison's TikTok fame has opened doors to the music industry as well as Hollywood. She released her debut album "Obsessed" in 2021. Soon after, she made her acting debut in the Netflix original film "He's All That."
5. Will Smith (@willsmith)-71.9 million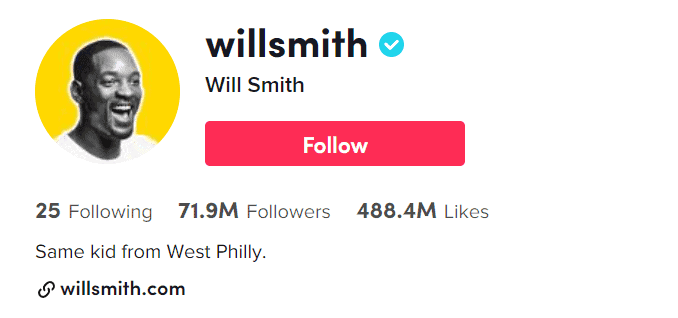 The Fresh Prince has made it to the 5th spot with a massive following of 71.8 million. Will Smith was long famous before most TikTok creators were even born. The credit for his success on the platform is usually given to the quality of his videos and his pre-existing fanbase. He gets criticized for the same reason.
6. Zach King (@zachking)- 68.5 million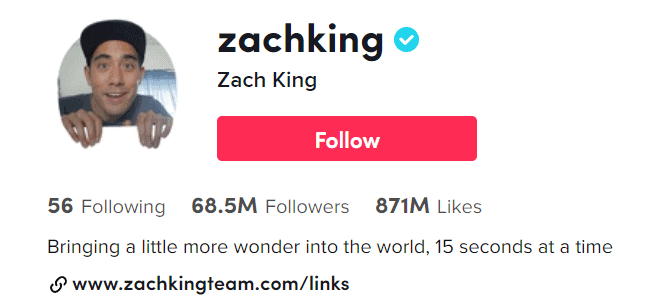 Zach King, the former Vine star, is popular for his digital magic. He is the perfect combination of digital magic meets comedy. His playful optical illusions and fun videos have earned him 68.4 million followers on the platform and a spot on this list.
7. Kimberly Loaiza (@kimberly.loaiza)- 63 million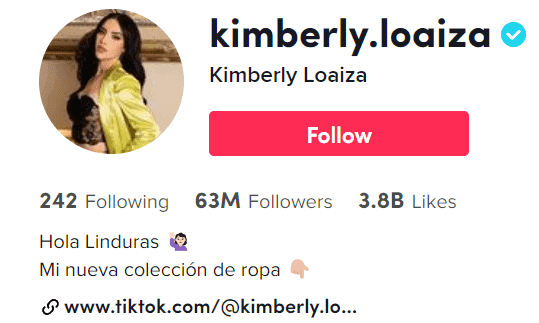 Kimberly Loaiza began her journey in 2016 when she started vlogging on Youtube. Kimberly soon became one of the most subscribed Spanish-speaking YouTubers. Her success on Youtube has translated well on TikTok, gaining her 7th place on our list. Kimberly is best known for her challenge videos and vlogs, but she has also done well in the music industry.
Her single "Don't Be Jealous" came out in 2020 and has topped the charts in multiple countries.
8. Burak Özdemir (@cznburak)- 58 million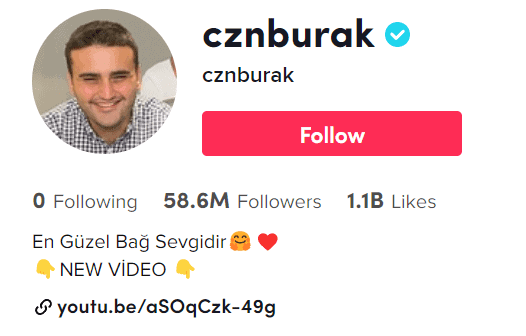 Burak Özdemir won over the internet with his ginormous food and adorable smile. With an average of 2.5 million views per post, the audience seems to go gaga over his over-the-top antics. He is notorious for going all the way out with giant portions of food and oversized utensils. He is seen constantly grinning and staring directly into the camera while preparing food.
9. Dixie D'Amelio (@dixiedamelio)- 57.4 million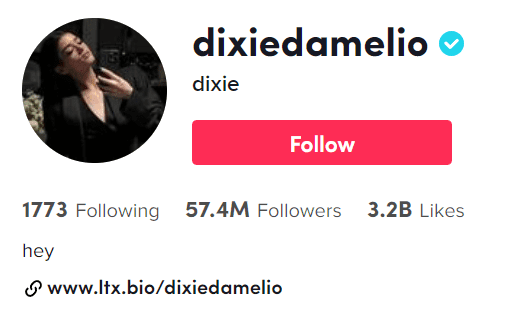 Dixie D'Amelio is our list topper, Charli D'Amelio's older sister. But unlike her younger sister, Dixie is more focused on music. Her debut single, "Be Happy," came out in 2021 and topped the charts for a while on multiple platforms. She has also performed alongside prominent artists like Ed Sheeran. In 2021, Dixie started a Hulu series, "The D'Amelio Show," along with her sister.
10. Spencer Polanco Knight (@spencerx)- 55 million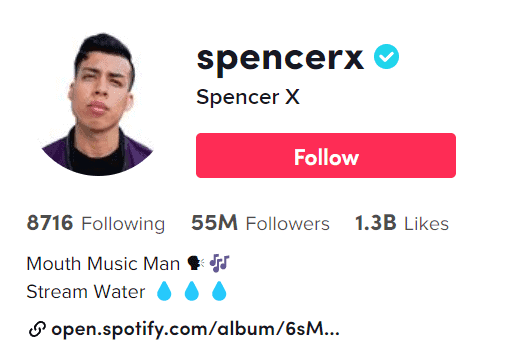 Spencer Polanco Knight, or Spencer X, is an American beatboxer. He calls himself Mouth Music Man, and he shares his original songs and covers on TikTok. He often does tutorials and collaborations with other artists too. In 2020, TikTok announced that he would receive a portion of TikTok's creator fund. Spencer X has collaborated with various big names in the music industry, like Alicia Keys and Kendrick Lamar.
11. Loren Gray (@lorengray)- 54.4 million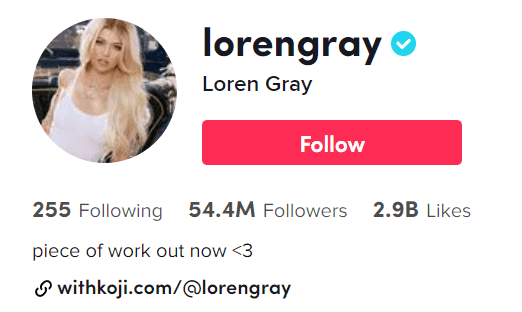 Loren Gray became an online sensation at the age of 13. In 2015, Loren first joined musical.ly and became an instant hit. Her content mostly revolves around music. She has incredible talent and good looks to go with it. Loren has even released some music videos which have garnered millions of views.
12. Dominik Lipa (@domelipa)-52.8 million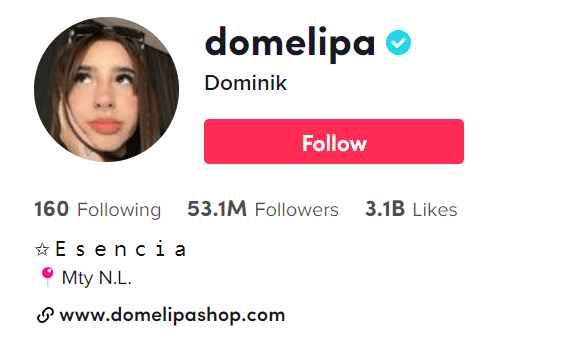 Dominik Elizabeth Reséndez Robledo is a Mexican influencer. Domelipa shows off her dance moves and lip-syncing skills on TikTok. On average, Domelipa gets over 1 million likes per post. She has her merch store that sells a wide range of apparel like joggers and hoodies. She has partnered with several well-known brands, including Tommy Jeans and Pandora.
13. Jason Derulo (@jasonderulo)-52.3 million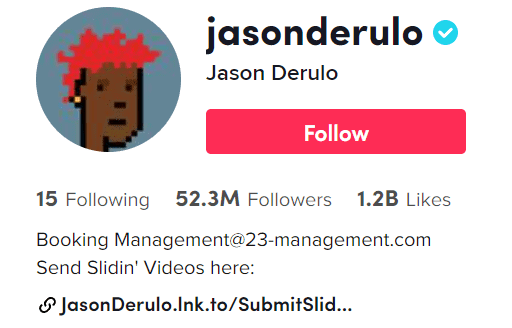 The award-winning singer, songwriter, and dancer, Jason Derulo has also had plenty of success on TikTok. Jason's fans get to see more of his true self on the platform, and they can't get enough of it. Derulo has also shared in an interview that he makes about $75,000 per TikTok video.
14. DwayneJohnson (@therock)-52.4million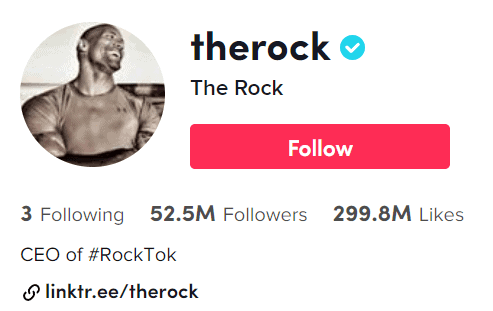 Former WWE superstar turned actor is one of the top fitness influencers on TikTok.With over 52 million followers, The Rock has seen great success on the platform. His popularity on the platform can be attributed to his fame as an actor.
15. Michael Le (@justmaiko)-51.4 million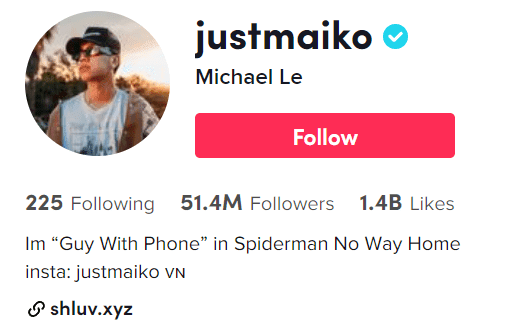 Michael Le's has had a presence on TikTok started while still known as Musical.ly. Michaels's content on the platform mainly constitutes dancing. He also makes videos with his siblings, who are also into dancing. He created a collab house called Shluv House in 2020.
16. BTS (@bts_official_bighit)-49.8 million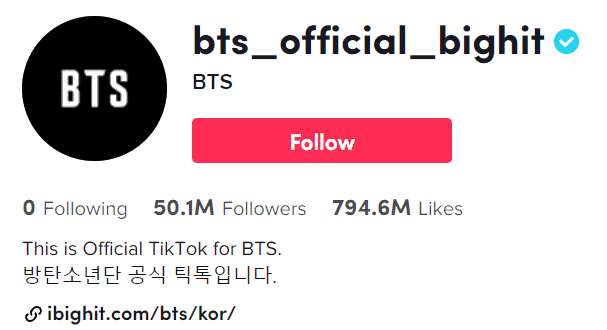 If you have not heard of BTS, you probably have been living under a rock. The official TikTok account of the k-pop band BTS has nearly 50 million followers. They hold the record for the fastest time to get one million followers on TikTok. It took them just 3 hours and 31 minutes, and Guinness World Records even recognized the record.
17. Younes Zarou (@youneszarou)-46.4 million
YZ or Younes Zarou is a German influencer best known for his illusion videos. In addition to this, he also shares tutorials about visual effects generated by pain or water. He has another TikTok channel just for his German followers. Though it doesn't have nearly as many followers as his main account.
18. Riyaz Aly(@riyaz.14)-44.9 million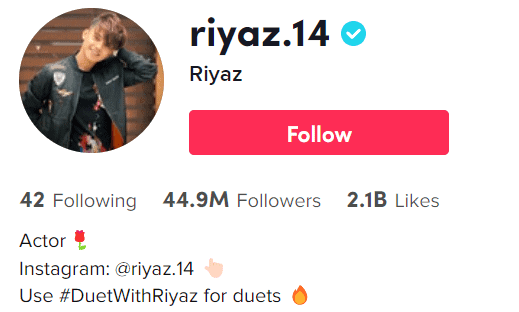 Riyaz Afreen is an actor and influencer based in India. He is known for his duet and lip-syncing videos on TikTok. He makes about $35,000 per post on TikTok, making him one of the highest-paid influencers on the platform.
19. Kris Collins (@kallmekris)-43.8 million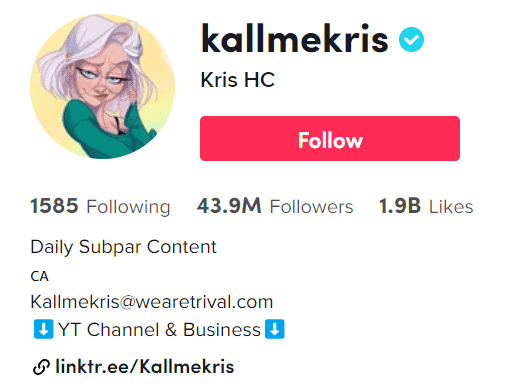 Kris Collins was a hairdresser based in Canada before joining TikTok. She created her TikTok account during the pandemic. On TikTok, her content revolves around lip-syncing and funny videos. She has also come up with a couple of original characters of a fed-up mom and a toddler with a tiny hand.
20. Billie Eilish (@billieeilish)-43.6 million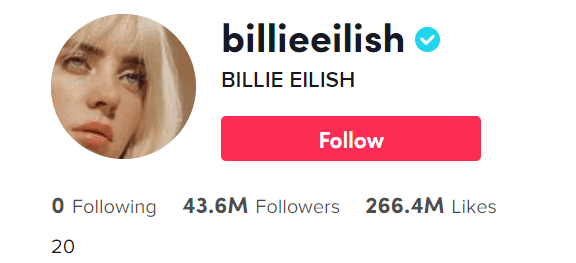 The popular American singer-songwriter has over 43 million followers on TikTok. Billie Eilish gained popularity after the release of her debut single," Ocean Eyes." Since then, she has gone on to win many accolades in the music industry. The singer is amongst many celebrities who have taken to TikTok to keep her audience engaged, and the people clearly love it.
Related Read:
Conclusion
TikTok is a fast-paced platform that is catered to a young audience. It is difficult to catch someone's attention in such a short amount of time. Yet the people on our list have successfully managed to do so. Along with a massive number of followers also comes the daunting task of keeping the engagement high. These people work hard to make their content as engaging as possible and keep their audience entertained.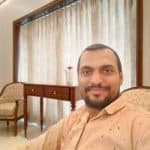 Hi, This is Gautham, a full time content writer and editor at snapseed.online who believes in bringing the best out and personalising stories to reach and relate to various audiences and I'm passionate about wild life photography, photo and video editing.