If you are curious about how to turn off likes on Instagram, we have got you covered! 
With Instagram's latest update, users now have the option to hide likes on their posts. This feature allows the user to lessen the pressure of social validation, reduce anxiety, and improve the overall well-being of Instagram users.
Instagram has been testing this feature since 2019 and has been successful in some countries, but it wasn't long before the platform made this feature available globally.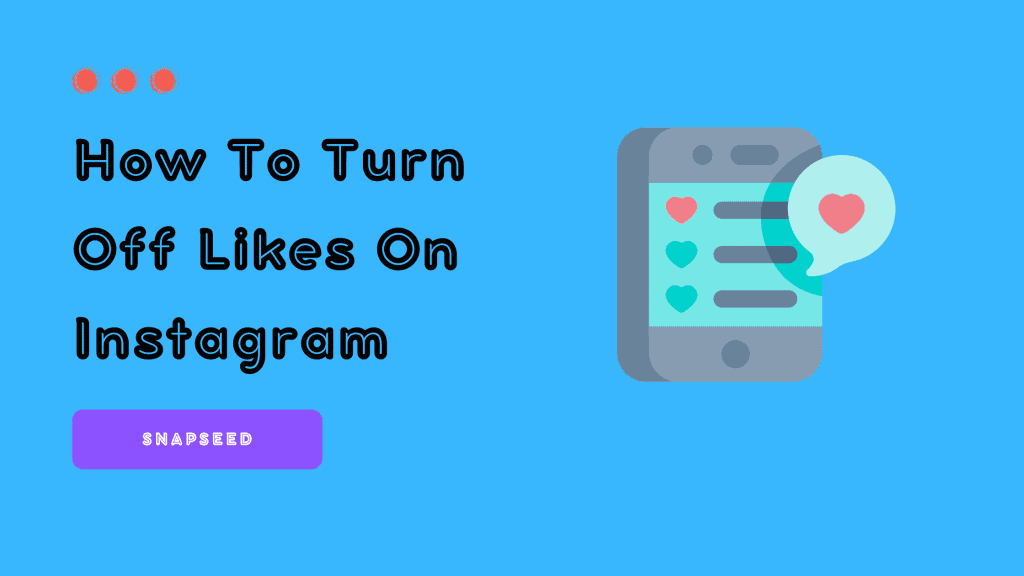 Many users were initially sceptical about how effective it would be, but after using it, they found it significantly improved their Instagram experience.
In this article, we'll go through the step-by-step guide on hiding likes on Instagram, its benefits, and how it impacts the community.
Method to Hide Instagram Likes on Your Posts:
On Instagram, you can hide likes on your post anytime you want. If you wish to hide likes on a new post or if you want to hide likes on a post that already exists in your feed, you can turn the likes off in a few steps! 
Instagram allows you to hide likes on a post before publishing it. You can do so by following these simple steps:
Step 1: Add a new post as you would typically. But before sharing it, scroll down to Advanced settings.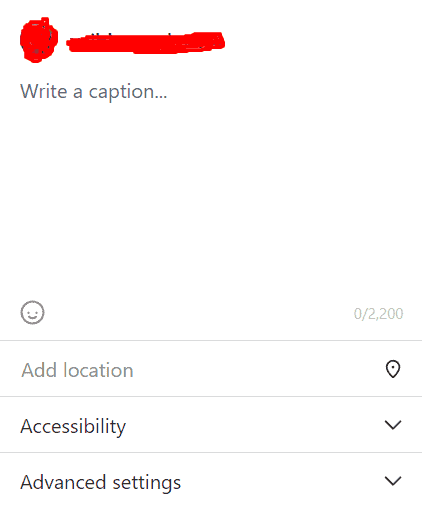 Step 2: You will now be redirected to the 'Advanced settings page.'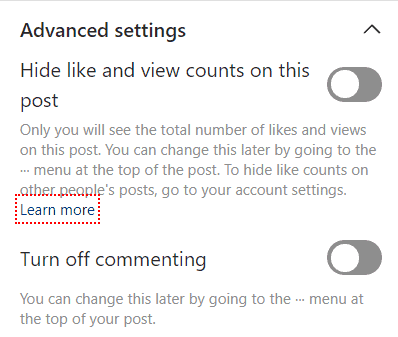 Step 3: Click the toggle button next to Hide like, and view counts on this post.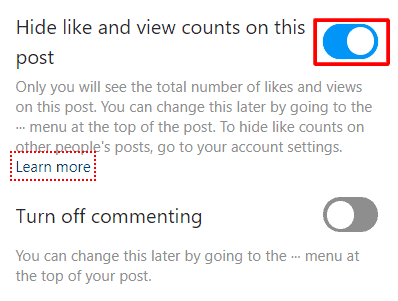 Click the back arrow icon to return to the New post page and share your post as usual.
You can make changes to this setting anytime with the help of the three-dots icon at the top of your post.
Method to Hide Likes on your Post After Posting:
Suppose you want to turn off/hide the number of likes for one of your existing posts, or you forgot to turn them off while posting. Don't worry! You can easily tweak the setting for that particular post and hide likes from your followers, even for your old posts! 
Below is a step-by-step guide that you can follow. 
Step 1: Navigate to the post you want to turn likes off for. Now, click on the three dots at its top-right corner.
Step 2: Tap on the 'Hide like count' option.
That's all! Your likes are now turned off, and your followers cannot see the number of likes on your post.
Note: Note: Currently, Instagram doesn't offer a feature to hide likes for multiple posts simultaneously. So you have to apply these steps to each post individually. 
How Can You Hide Likes On Other's Instagram Posts:
Instagram gives you complete control over what you want to see on your feed, including likes on someone's post. If you are not a person who is interested to see the number of likes on someone's post, you can easily turn them off!
Follow these steps to hide likes on others' posts:
Step 1: Tap on your Profile tab in the bottom right corner of your screen and tap on the three horizontal lines or the menu icon in the top right corner.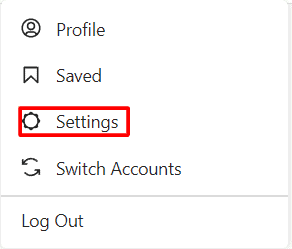 Step 2: Go to the Settings option from the menu.
Step 3: Now, click the privacy option and head to the Posts option.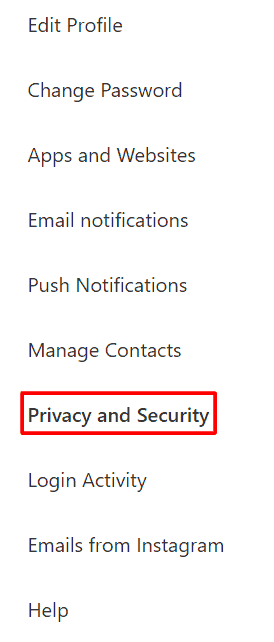 Step 4: Turn on the toggle button visible at the 'Hide like, and view counts' option.

You have now successfully turned off likes from others' posts on Instagram. You can undo this anytime by toggling the Hide like, and view counts options.
Related Read:
Final Words:
Everyone wants different things out of their Instagram experience. For some, it is essential to keep track of likes to see what works for their profile. Others want to relax and have a fun time scrolling.
Whether you are getting anxious about your likes count or if you want to post without validation from strangers online. With our guide mentioned above, you can quickly turn off or hide the likes count on your and others' posts.
So, what are you waiting for? Try the methods mentioned above for a hassle-free experience on Instagram!
Our article helped you understand how to hide likes on Instagram. Over to you. Did we miss anything? Let us know in the comment section below!
Frequently Asked Question:
Can you turn off/hide likes on Instagram on a PC?
Unfortunately, the answer to that question is no. Instagram promotes its application use heavily. Several features on Instagram are disabled for PCs. To turn off/hide Instagram likes, you must use the Instagram app for iOS or Android devices. 
Can you still see the total likes on your posts?
Only you can see the total number of likes on your post if you want to. However, you won't be able to see the likes count under your post as you would normally see. To see how many likes your post has, tap on others, and the total like count will be available to you on the Likes page.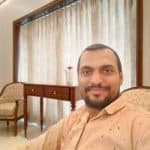 Hi, This is Gautham, a full time content writer and editor at snapseed.online who believes in bringing the best out and personalising stories to reach and relate to various audiences and I'm passionate about wild life photography, photo and video editing.