Over the past few years, social media has emerged as the biggest platform for marketing. Every day we see social media campaigns trying to engage with more and more people in order to create new customers.
But handling multiple social media accounts separately might take a lot of time, and this is where a Social Media Management tool can save your leg.

With such tools, you can handle your entire social media activities from a single dashboard. Specifically designed for marketing purposes, management tools can streamline your workflow and target the right audience for your content.

Whether you are looking to start a business or trying to advertise a certain product as a seller, you need people to be aware of it. The easiest way to bring attention to your idea is to advertise it on multiple social media platforms. A Social Media Management Tool does it best for you.

Let's go further and have a look at some of the top social media management tools available on the market these days and try to analyze how each might be helpful to you.
Social Media Management Tools: What You Must Know
Social Media Management tools can be considered as marketing tools for social media. As a business owner or an independent seller, you need a tool that can handle all your social media accounts and convey your idea to the audience across different platforms.

The tool allows you to monitor all your social media activity from a single place, usually called a dashboard. It's a unified collection of all the social media accounts where you can see multiple profiles and engage in different activities.
From the dashboard, you are able to keep an eye on all the communication processes and respond to them without needing to log in to your social media accounts separately. The tool also assists you with content ideas and then publishing on different accounts altogether.
The tool also allows you to schedule the posts, even suggesting a suitable time to publish in order to reach a large audience. Some premium social media tools may also perform social listing for you and help you analyze market trends and most popular topics. This allows you to plan better marketing strategies to reach out to more and more people.
Best Social Media Management Tools: List Of Top 5
The question now is, which tool is the best for you? A tool that you can make the best out of, without hurting your pocket. Since there are over 20 popular management tools on the market, each claiming to be the best, it might be hectic to pick up the best one for your business.

I have analyzed over 20 management tools thoroughly and was able to pick the best ones for you. Each of the tools in this article is a bang for the buck, offering great features perfect for a certain business model. Let's study each of them and hopefully, we'll be able to figure out which is the best for you.
1. Hootsuite: The All-Rounder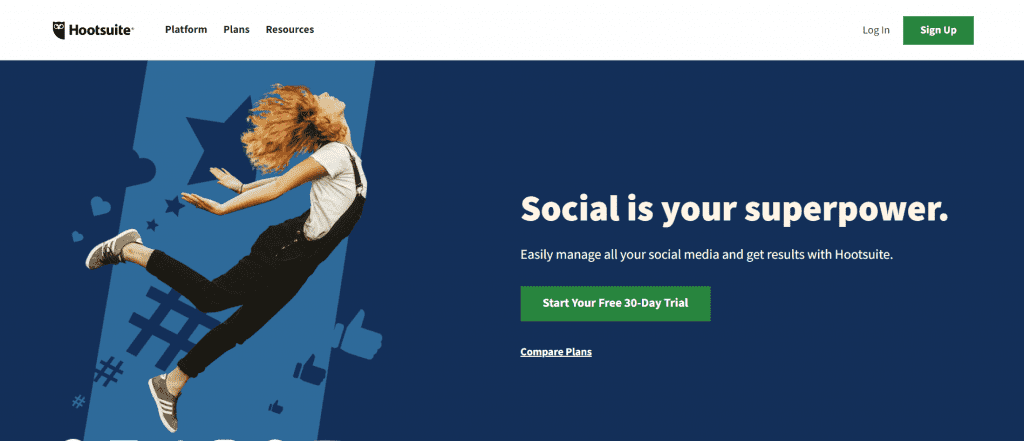 Hootsuite, probably the oldest from the lot, was founded in 2008, at a time when there was no scope for social media tools. According to a report, Currently, more than 15 million people take its services to manage their social media affairs along with 800 out of 1000 top Fortune companies.
Description & Features
The tool allows you to manage all your social media accounts from a single place. The tool supports all major platforms such as Facebook, Instagram, YouTube, LinkedIn, Twitter, Pinterest, and Tumblr. It helps you create the content for your various social media accounts and allows you to schedule them.

Let's have a look at some of the prime features of Hootsuite.
Allows you to measure your social media ROI




Analyze internet trends and market forecasts.




Bring all your social media interactions to one place where you can monitor them and respond to them all at once or separately.




Bulk social media posting on more than 35 accounts.




Monitor internet trends, keywords, and market analysis.
Who needs it?
Hootsuite is designed for every class of individual customers and businesses. Whether you are a start-up business that is looking to promote your product or an established firm up for market campaigns, the tool has everything you need to manage all your necessary social media activities.
For additional support, Hootsie also has a smartphone application and a Chrome browser extension.
Pricing Information:

The base plan starts at $29 which gives you single-user access and manages up to 10 social media accounts. However, you can go for higher plans at $129 and $599 to enjoy all the features and manage up to 35 social media profiles.
2. Buffer: The beginners' Special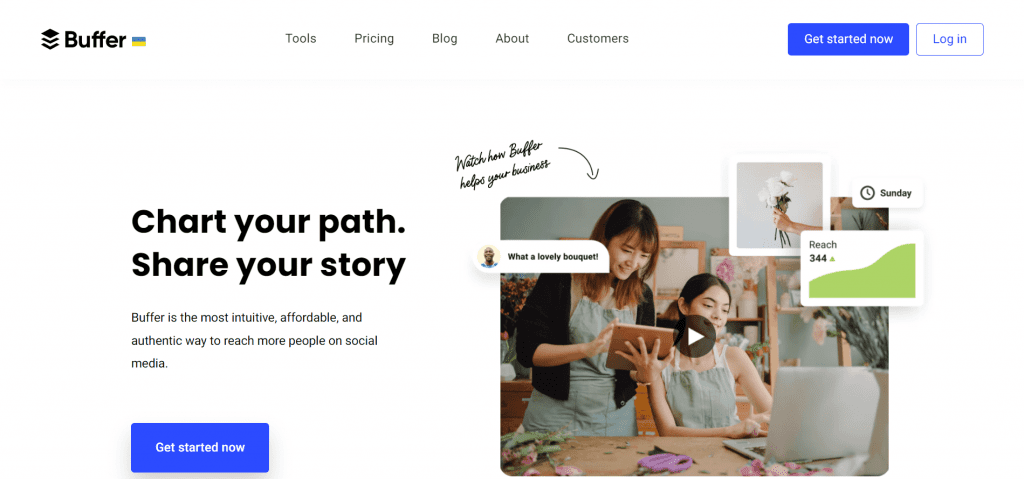 Buffer is an affordable and streamlined management tool designed to help small businesses and beginners mostly and help them make the best out of social media engagements and results. Buffer is best suitable for newbies due to its clean and user-friendly interface. It allows you to manage your social accounts on Facebook, Instagram, YouTube, Twitter, and Pinterest
Description & Features
Buffer has a suite of services for publishing, analytics, team collaboration, and audience engagement. These services are responsible for publishing the content across all your social media accounts and then analyzing it. You also have the ability to schedule the material you want to post on different social channels.
Here are some key highlights of the Buffer management tool:

Specific tools designed for social media campaigns.




Helps you curate the content based on the trends and schedule it to post at the time of your choice.




Chrome extension support helps you manage all your social activities right from your browser anytime.




Excellent customer care service.




The latest update has included a calendar that allows you to see the weekly or monthly views for your social media posts.
Who needs it?
If you are a beginner in the world of social media marketing, the tool will help you manage your social media profiles from a single hub. Buffer has a storing analytics capability, meaning you can make the best out of your social media interactions and plan the strategy based on the analysis. If you are looking for a tool to manage the big three accounts Facebook, Instagram, and Twitter from one station, Buffer is the right place for you.
Pricing Information:

Buffer targets small business and beginners and their plans reflect this idea. There is a lifetime free plan where you can use basic publishing features and a landing page builder. The premium plan starts at $5 per month which is suitable for individual users. There are other plans, starting at $10 and $100 per month for multiple users and slightly bigger marketing agencies.
3. Sprout Social: Best for Small Business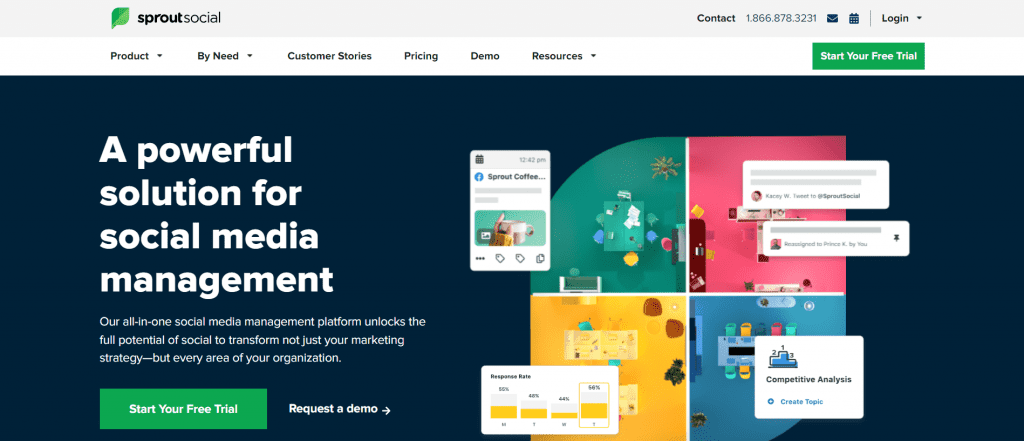 Sprout was founded way back in 2010, making it one of the oldest management tools for social media accounts. In many ways, Sprout is similar to Hootsuite, which syncs all your social media accounts to a single platform. The platform might be a bit tricky to get hold of but with some learning, you can utilize all the features in it.

Description & Features
There is a universal dashboard where you can combine all your accounts and monitor your social media engagements in real-time. The tool uses Google Analytics for analyzing market trends and reporting. Sprout provides you with the most accurate trend predictions and market insights for your market campaigning. Sprout allows you to manage Facebook, Instagram, YouTube, LinkedIn, Twitter, and Pinterest. Let's check out what Sprout social has in the vault for you:

Allows you to plan your posts and publish them at the optimal times in order to gain maximum exposure.




Chrome and Firefox extensions support scheduling posts directly from your browser.




Allows you to optimize your product/brand keywords in order to engage more and more audiences.




Provides you with a Customer Relationship Management feature, allowing you to have complete customers' profiles in order to know and serve them in the best possible way.
Who needs it?
Sprout is perfect for SMEs and medium-sized agencies. Its analytics reports are so accurate that many marketing agencies rely on Sprout for their social media market study and strategy planning. So if you own a marketing agency or are planning a product campaign with your team, you can trust Sprout for your social media management.
Pricing Information:

There are three tariff plans, Standard, Professional, and Advanced. Standard starts at $89 per month which allows you to manage 5 social media accounts. You can buy Professional or Advanced at $149 and $249 per month respectively to get access to more tools and manage up to 10 social media accounts at the same time.
4. CoSchedule: Designed For the Bloggers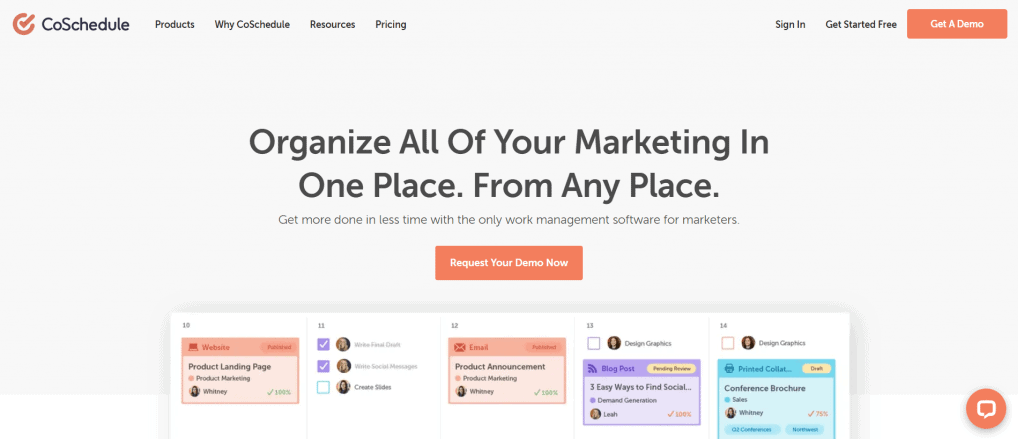 Most of the management tools are focused on content creation and scheduling it across your various social media accounts. But CoSchedule is a unique management tool that offers a lot more than a traditional social media tool. It's a suite of tools to manage all your social media marketing activities along with your blogs.
Description & Features
It features a calendar tool where you can organize all your social media posts, content to publish, upcoming tasks, and events. CoSchedule allows you to manage Facebook, Twitter, Pinterest, and WordPress accounts. The marketing suite consists of the following features:
Content Organization

Work Organization

Calendar Organization

Asset Organization



Here are some key features of Coschedule management tools that might come in handy:
Allows you to manage the Google Docs along with your WordPress account, with the help of drag and drop tools.




Allow you to link all your projects and upcoming events to your calendar to keep you up-to-date.




A marketing tool that allows you to collaborate with teams, and plan and schedule your next social media posts.




Coschedule also offers an Actionable marketing Institute that includes more than 20 courses on social media marketing strategies.
Who needs it?
Coschedule is a great tool for businesses of all kinds and sizes but it's primarily focused on the companies that run a website or a blog. If you are an independent seller, small business owner, or blogger, the marketing calendar will reduce your workload drastically.
Pricing Information: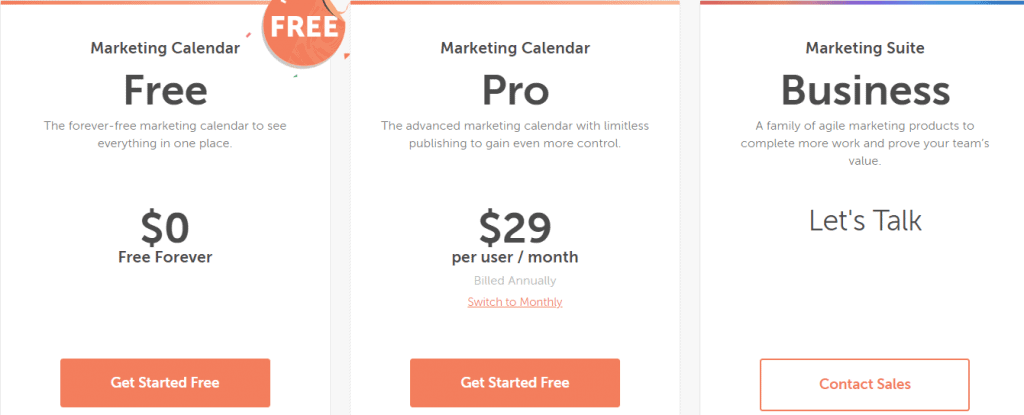 CoSchedule offers a range of monthly and annual plans depending on your requirement. The basic plan starts at $39/month where you get access to a marketing calendar and basic features such as social media publishing, task management, and so on.
You can also get custom build plans according to your business requirements where you can get hold of all marketing calendar features along with account management, scheduling social media posts, and much more. All the plans come with a 14-day free trial to give you an idea before you invest in a longer-term plan.
5. Sendible: The One for Agencies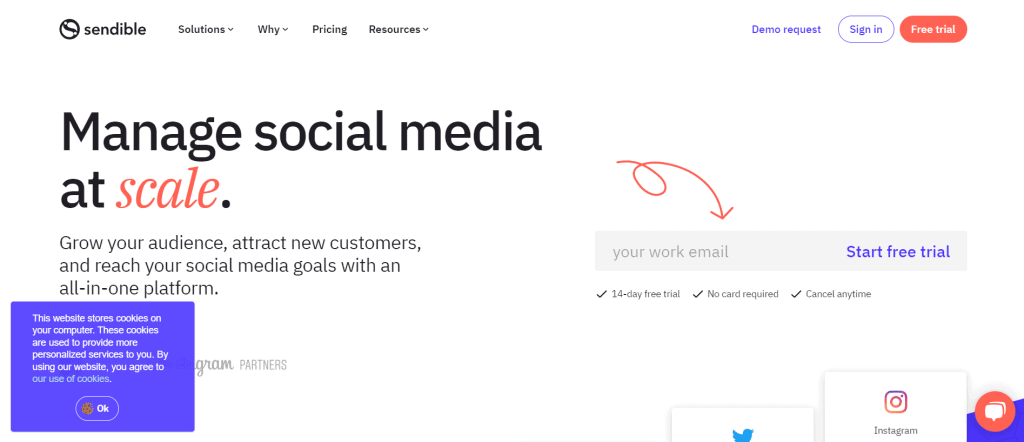 Sendible is a great social media tool that is mailed aimed at marketing agencies that handle a large number of clients. The tools provide marketing companies with various services and strategies in order to help their clients in an efficient manner. You also get the application support to manage your accounts through your smartphone. The app is available on both Android and iOS platforms.
Description & Features
Sendible provides everything that a traditional management tool does along with some additional features. There is a central dashboard to keep an eye on all your social media activities but Sendible allows you to customize the dashboard based on your branding so that you can attract more new clients for your marketing firm.
With Sendible you can manage your profiles on some of the most popular social media platforms such as Facebook, Instagram, Google My Business, LinkedIn, Twitter Pinterest, and Tumbler.
Let's have a quick look at some of the key functions of Sendible:

Allows you to interact with users, and monitor your competitors from a centralized dashboard.

Curate and schedule posts for your social media accounts, and analyze your overall marketing activities.

Allows users to download the product reports in various formats such as .xsl, .csv, or .pdf file.

Collects and analyzes data from your social media competitors in order to help keep an eye on the competition and advances in the social environment.

Google chrome extension lets you publish or schedule the material you find while surfing the internet without having to open our social media tool.



Who needs it?
As I mentioned above, the tool is not suitable for individual users as its services are more helpful for agencies handling multiple clients. The tool also comes in handy for Influence marketing and startups promoting their brands through social media. The analytics is strong and does a good job with online trends prediction so you can have a better idea of social media marketing.
Pricing Information:

Sendible offers 4 plans for its users, Creator, Traction, Scale, and Expansion, costing $29, $89, $199, and $399 respectively. The creator plans grant you single-user access and let you manage 6 social media profiles.
Scale is the most popular economic plan if you are looking for a long-term investment. The plan comes with 7 users support and allows you to monitor 49 social media profiles. You get an additional $20 discount if you purchase the yearly plan.
Related Read:
Final Words:
There you go. I hope this article was able to clear your doubts regarding social media management tools. In a world where social media is the fastest way to spread awareness, news, and information, It's a necessity to have your brand promoted across the platform.
Now there are certain parameters you need to keep in mind before investing in a social media tool; your budget and requirements. Although Nearly all social media tools offer similar services, the main difference is in the number of accounts you can monitor with each of them.
There are some unique tools such as CoSchedule that have a great calendar feature to schedule your meetings, posts, and much more. You need to evaluate your business model and your budget before you invest in any of the tools. You can also take free trials to understand the tool better before you buy it.

If you are looking for an around management tool, Hootsuite is the best one out there. It features a simple design and user-friendly interface so that you can operate it without any proper training. You can manage all your favorite social media accounts from a centralized dashboard very easily.

If you own a marketing company, providing social media support for a number of clients, Sendible is the perfect choice for you. The premium plan allows you to manage up to 50 social media profiles along with providing you with online trend reports, and market analytics.
FAQs
What are Social Media Management Tools?
Social media management tools are marketing tools for your online campaigns or small business. With these tools, you can easily promote your brand on any social media platform.
Why do I need Social Media Management Tools?
Social media tool is a great way to organize and manage all your social media accounts from one place. You can make a conversation, schedule a post and engage with users across your social media accounts from a single dashboard.
Which is the Best Social Media Management Tool for Twitter?
Nearly all the tools provide support for Twitter. Hootsuite is the best all-in-one tool that you can use to manage your Twitter account.
Which is the cheapest tool for Social Media Management?
Buffer is the cheapest management tool with the basic plan starting at $5 per month.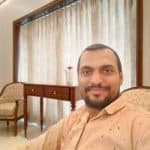 Hi, This is Gautham, a full time content writer and editor at snapseed.online who believes in bringing the best out and personalising stories to reach and relate to various audiences and I'm passionate about wild life photography, photo and video editing.