You travel, you go out to eat, you meet-up with your friends and family, you have your first day at work, you get married or you simply take a walk around the city after a long day. The one thing that you want to do during all these moments is to capture them. You know, Make memories and have them saved with you forever to look back to. To do so, we usually click pictures on the go on our phones since not everybody has a professional camera and not everybody carries one around all the time.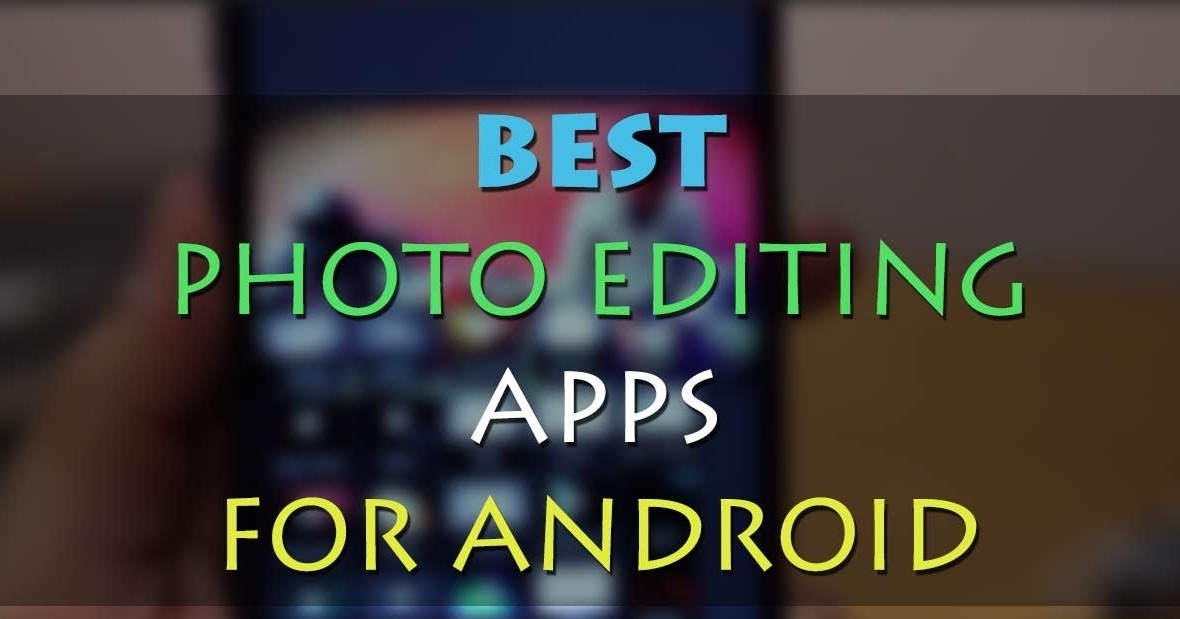 Some people even like to post their special moments on social media to have the squad see what they are up to. On another side, some of us want to become social media influencers, interact with our followers which makes posting good content in the form of images is the most important thing.
There's a photographer in each one of us…
Everything needs a good picture, yet, we aren't all professionals in the business of photography and each phone camera is different and unique in its own way. But, why should you let that stop you from having your own set of beautiful pictures and social media content?
List of Best Photo Editing Apps for Android:
To help, we've got a list of the best photo editing apps for your android phone which not only improves the picture but also makes it ready to use!
1. PicsArt
This one has been in the play for a while and recently got an amazing app update. The logo is itself very aesthetic with a purple and blue color combination in the background, attracting users instantly. It has a membership program that is not compulsory and most important and common features are all accessible for free. However, if you are interested and have the budget, the membership does give you access to multiple extra filters and tools to use.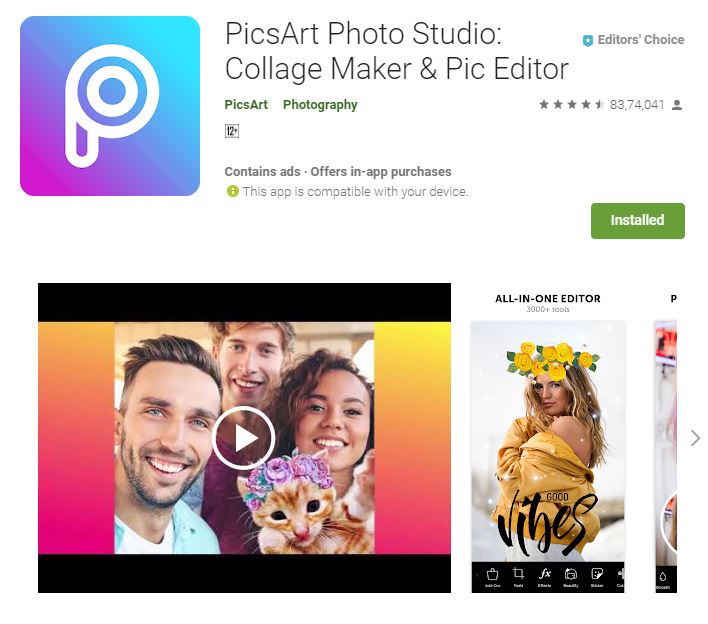 Normally without a payment, you can edit via a filter (my favorite being Light cross and Dodger), crop or shrink the image, add a background, fit the size, add emojis or lights and then easily save it to your gallery or send it to friends directly via WhatsApp or mail.
There is also an in-built camera system that you can use, to directly click pictures with a live filter feature, saving you a lot of time in editing later. Moreover, you can sign up for a free account and interact with other users, see their edits and take inspiration, building your own PicsArt network.
2. Adobe Photoshop express
With Adobe and its reliable software, one can never go wrong. With more than 80 edit filters, you have a huge variety to choose from when your picture doesn't turn out right. The interface is very simple and easy to use, with basics like filters, crop, Colors and frame adjustments as options. The app is for free and does not display any advertisements, making it very convenient for quick work.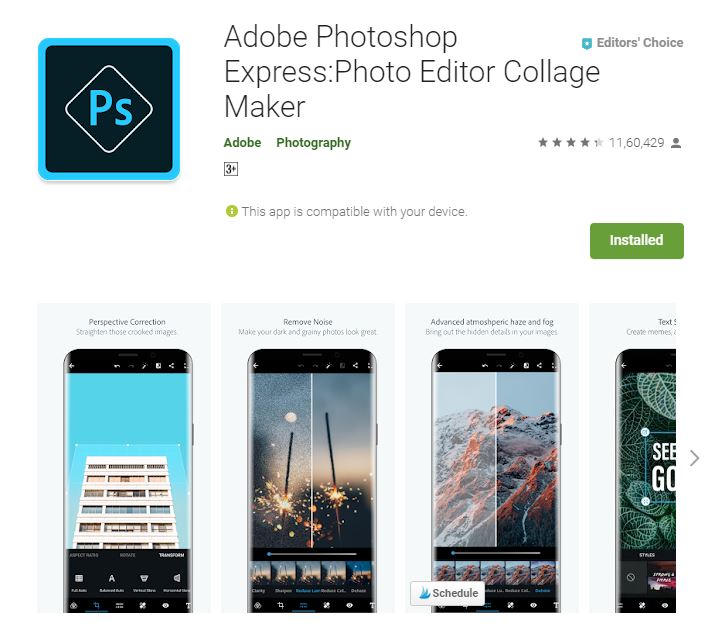 Another unique feature of this app is that it has a perspective correction and a noise reduction feature which helps a lot in improving any night and skewed photos.
3. Photo Director
A dark and stylish interface, this one comes with basic features like filters, fish-eye removal, light and color adjustments at the bottom of the screen. Moreover, it also has advanced features like a Content aware tool which gets rid of photobombers or unwanted items in a picture. This feature is extremely useful when you are on the go and use the App's own live camera for clicking pictures.
It's a free app with few advertisements, it also comes with features like de-hazing and HDR effects which help you improve any dark, misty or unsharpened picture. This also has more of a manual editing system which makes it easier for you to have the specific adjustments that you are looking for.
4. Snapseed
Developed by one of the biggest tech giants out there, this app comes with reliability, service, and quality. Google is the provider of Snapseed which is probably the reason why it has the most appropriate and right set of features for any common user all over the world. With around 29 different tools, it covers every aspect of photo editing that one can think about. There are crop, rotate, perspective and expand as features to work on the image angle and size.
Then features like white balance, glamour glow, HDR scape, tonal contrast are also there to act as tools to improve the picture outlook. Moreover, Google provides this app for free without any advertisements. After editing, you can easily export your file to your gallery and save it there or even share it with your friends on social media.
5. Canva
This is another app that is made with the mindset to help you post your pictures on social media. It understands how each social media platform is different from the other. You have a unique feature of adjusting your image size specifically to a particular social media platform that you choose like Facebook, Instagram or even twitter. Then, you have various templates that you can choose for personalization, access graphics tools or customize your image by making color and style changes. The app is for free but keeps a few features for users that sign up for a paid plan.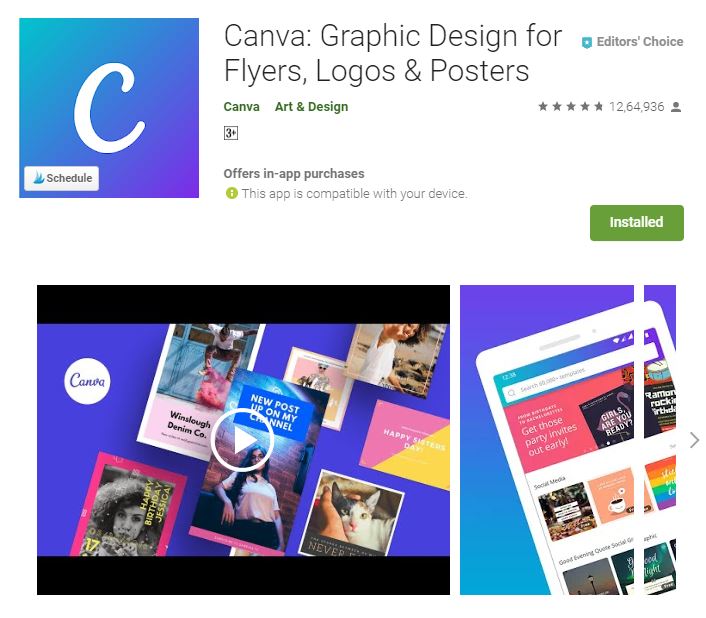 The only advertisements that pop up are to encourage users to upgrade to the premium Canva app but you can easily dodge and avoid them if you like what you are using for now. Photo editing apps come with their own interface, features, and system of working. Mostly one uses 2-3 apps to reach their desired type of edited images and adjusts to the whole editing world with time.
The above 5 apps are a few of the best apps currently available on Playstore and you need to make the choice based on your requirements. Standard editing for personal use would require something simple like Snapseed or PicsArt. On the other hand, Adobe Photoshop express and Canva work better for social media influencers. Happy editing!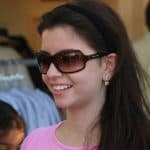 Myself Ritika Singh Author and Founder of this blog Snapseed.online, being a professional photographer; has enormous experience about professional photography, this special blog is specially designed for those who are truly passionate as well as persistent about photography.
I stepped into professional photography in the year 2005 and since then I have been learning several technicalities involved in photography.